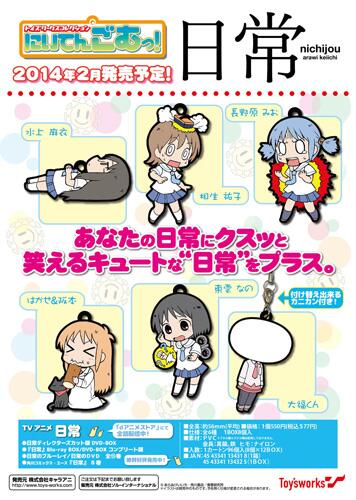 Errmm… I'm sorry for the tittle of this post xD
Nichijou's rubber strap kitaaaaaaa!!! I'm glad Nichijou is still "alive" until now. Although the anime has ended already, but the toys for collections are still being produced (for limited amount). Yeah, Nichijou's goodies are so rare. And I don't have any.
I've got this news from Shiraishi Minoru-san's twitter who got shocked seeing Daifuku-kun's (the last one in the picture)  strap is also produced. Shiraishi Minoru is the voice actor of Sakamoto (the black cat in Shinonome household).
I really wanted to buy Nichijou's goodies but, ugh, my $$$$$ goes to AKB's swags. And I think I need to stop my habit to buy those swags. w
For you who want to buy, go check this link to pre-order. It will be released on Feb, 2nd 2014. Not a really long to wait.
Publisher: Chara-ani (Toys Work)
Release Date: February, 2nd 2014
Sales Type: Advance sale/Pre-order
Reservation Period: from October, 23rd 2013 0:00:00 to November, 20th 2013 23:59:00 (JST/Japan Standard Time)
Amount you can buy: Up to 10 pcs per person
Payment Method: Credit card/convenient store/postal transfer/cash on delivery/Peisey
Happy shopping (to those who are interested) :D